There are various kinds of historical sites in Pennsylvania. And the sites are not limited to old building structures or mansions. But you can get the view of various historical sites like gardens, towns, villages, and museums. Visitors or tourists have various options as attraction sites to watch and enjoy.
Let's see some of the historical sites which are popular in Pennsylvania
1. Steamtown National Historic Site
This site is full of steam engines and shows their contribution in the 19th Century towards America's economy. If you like railroading and like to see historic classic trains then this is the must place for you. Visitors and tourists have given this site a 4.5 stars review. About 878 people have reviewed this site. Overall review is excellent for this historical site. Steamtown National Historic Site comes under the category of Speciality Museums and Historic Sites and Trams. This site is open for all visitors from Monday to Sunday. The timings are 10 AM to 4 PM for all days of the week. Their staff is amazing, kind and professional in their work. The address of this site is 350 Cliff St, Scranton, PA 18503. 
2. President James Buchanan's Wheatland
Local visitors and tourists have given this site a 4.5 stars review. About 514 people have reviewed this site. Overall review is excellent for this historical site. This is open for only Wednesdays to Saturdays at 10 AM to 3 PM. The address of this site is 1120 Marietta Ave Use North President Avenue Entrance, Lancaster, PA 17603-2550
3. Hoover Mason Trestle
It is full of heavy metals like iron and steel industrial development site. It is located in the former Bethlehem Steel corporation plant. Local visitors and tourists have given this site a 4.5 stars review. About 198 people have reviewed this site. Hoover Mason Trestle comes under the category of Historic Walking Areas and sites. Overall review is excellent for this historical site. This is open only for 1 hour per day. The address of this site is 711 E 1st St, Bethlehem, PA 18015-1369
4. Fonthill Castle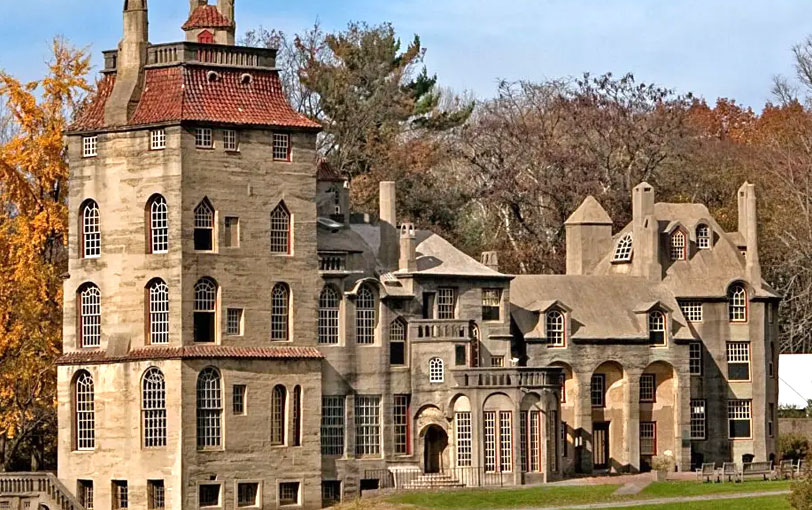 Fonthill Castle is a home of Henry Mercer. It has 44 rooms with amazing handcrafted interior designs on every tile. Local visitors and tourists have given this site a 4.5 stars review. About 511 people have reviewed this site. Fonthill Castle comes under the category of Historic sites and castles Overall review is excellent for this historical site. This site is open from Tuesday to Sundays at 10 AM to 5 PM. The address of this site is 525 E Court St Main Entrance is on Rt. 313 , between North Street and East Court Street., Doylestown, PA 18901
5. Horseshoe Curve National Historic Landmark
Local visitors and tourists have given this site a 4.5 stars review. About 570 people have reviewed this site. Horseshoe Curve National Historic Landmark comes under the category of Historic sites. Overall review is excellent for this historical site. The address of this site is 2400 Veterans Memorial Hwy, Altoona, PA 16601, United States
6. Old Bedford Village
This site has 18th to 19th Century buildings. This village includes varieties of old shops selling candles and general items. It also has a jail, blacksmith, tinsmith and woodworking shops too. Local visitors and tourists have given this site a 4.5 stars review. About 570 people have reviewed this site. Old Bedford Village comes under the category of Historic sites as well as points of interest and landmarks. This site is open from Thursday to Sunday at 9AM to 5PM. There is a holiday from Mondays to Wednesdays. Overall review is excellent for this historical site. The address of this site is 220 Sawblade Rd, Bedford, PA 15522-7702
7. Independence Hall
Independence Hall is also known as the Pennsylvania State House. It is situated in Philadelphia, where there is one of the old cities. This city is known for its most historical spot in the country. Local visitors and tourists have given this site a 4.5 stars review. About 570 people have reviewed this site. Independence Hall comes under the category of Historic sites as well as Government Buildings. This site is open from Mondays to Sunday at 9AM to 5PM. Overall review is excellent for this historical site. The address of this site is chestnut Street between 5th and 6th Streets, Philadelphia, PA 19106
8. Ephrata Cloister
Visitors and tourists have given this site a 4.5 stars review. About 361 people have reviewed this site. Ephrata Cloister comes under the category of Historic sites as well as Speciality Museums. This site is open from Mondays to Sunday at 9AM to 5PM. Overall review is excellent for this historical site. The address of this site is 632 W Main St at the intersection of Rt. 272 and Rt. 322, Ephrata, PA 17522-1717
9. Monongahela Incline
It is an ancient funicular situated in the US, built in 1870 by the engineer John Endres. Local visitors and tourists have given this site a 4.5 stars review. About 1189 people have reviewed this site. Monongahela Incline comes under the category of Historic sites as well as Trams. This site is open from Mondays to Saturdays at 5:30 AM to 12:45 AM. Overall review is excellent for this historical site. The address of this site is 8 Grandview Ave Port Authority of Allegheny County, Pittsburgh, PA 15211
10. The Old Jail
The Old Jail has provided a space for Franklin County Historical Society – Kittochtinny in 1898. This jail consists of 880 Local visitors and tourists have given this site a 4.5 stars review. About 92 people have reviewed this site. The Old Jail comes under the category of Historic sites as well as Speciality Museums. This site is open from Mondays to Saturdays at 10 AM to 4 AM. Overall review is excellent for this historical site. The address of this site is 175 E King St, Chambersburg, PA 17201-1806